Three Steps to Ensure That InsurTech Startups Deliver What They Promise
There are over 1,000 InsurTech startups that promise to add value to traditional insurers and policyholders. Most look the same at first glance. However, they are not all equal. How to select the right InsurTechs?
Start Being on the Safe Side
Let me share my lessons learned on how to separate InsurTechs and ensure startups deliver what they promise. Apply the following three steps.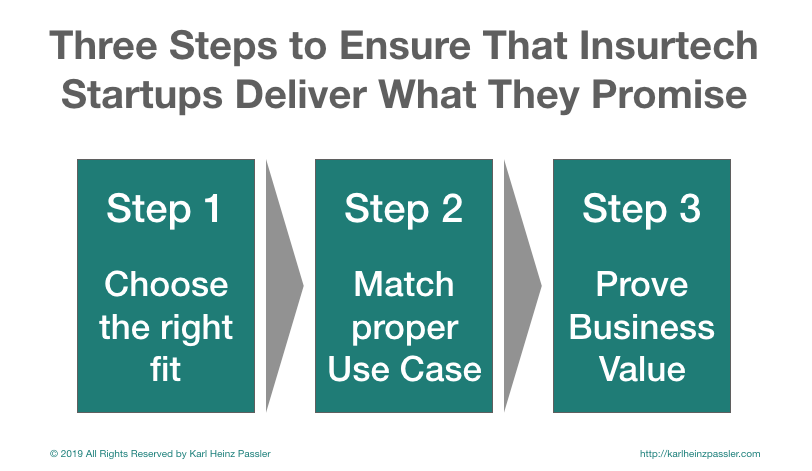 Step 1: Choose InsurTech startups with the right fit to focus your efforts
Divide InsurTech startups into two groups: Improvers and Inventors. Improvers take the current industry as it is and apply state of the art technology on top. In this way, they improve and digitize existing insurance processes and business models.
Further divide Improvers based on their method of value creation into three types: Distributors create value by providing an excellent customer experience directly to policyholders. Enablers create value by empowering incumbent insurance providers to run digital services. NeoCarriers create value by offering the full-stack of insurance activities to brokers, policyholders, and incumbent risk carriers as a white-label solution.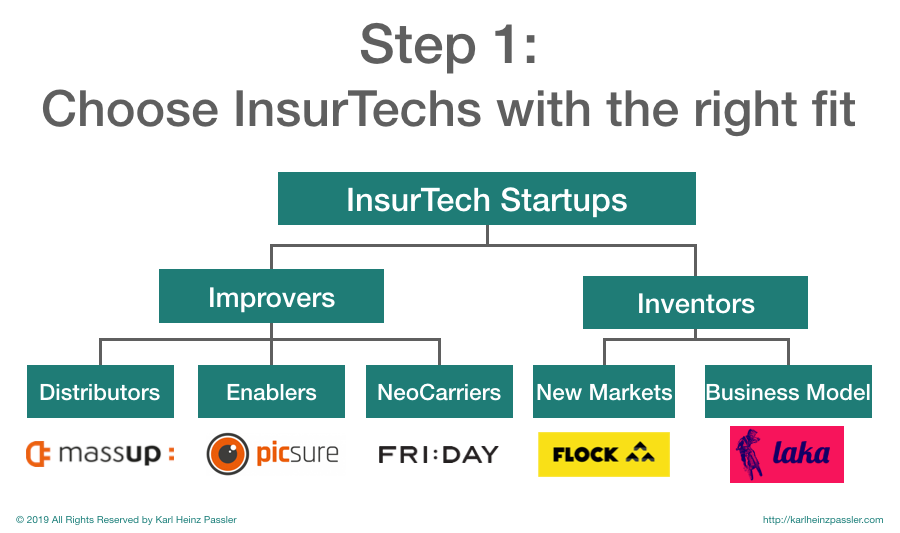 The group of Inventors doesn't accept the existing way of insurance. They question the underlying assumptions, reevaluate them, and re-invent insurance propositions and business models. Thereby offering new ways of insurance services. Based on their method of value creation, you can divide these InsurTechs into the types of New Market Conquerers and New Business Model Operators.
>> Your job: is to choose the InsurTechs with the right fit that suit your goals, focus your resources, and find ways to move your KPIs in the right direction.
Step 2: Match the startup with a proper Use Case to improve specific key business figures
Use the insurance value chain tool. A value chain is a set of activities that an insurer operates to deliver value to its policyholders. Essential activities include Asset and Risk Management, Policy Administration and Customer Service, Claims Management, Product Development, and Underwriting, and of course, Marketing and Sales.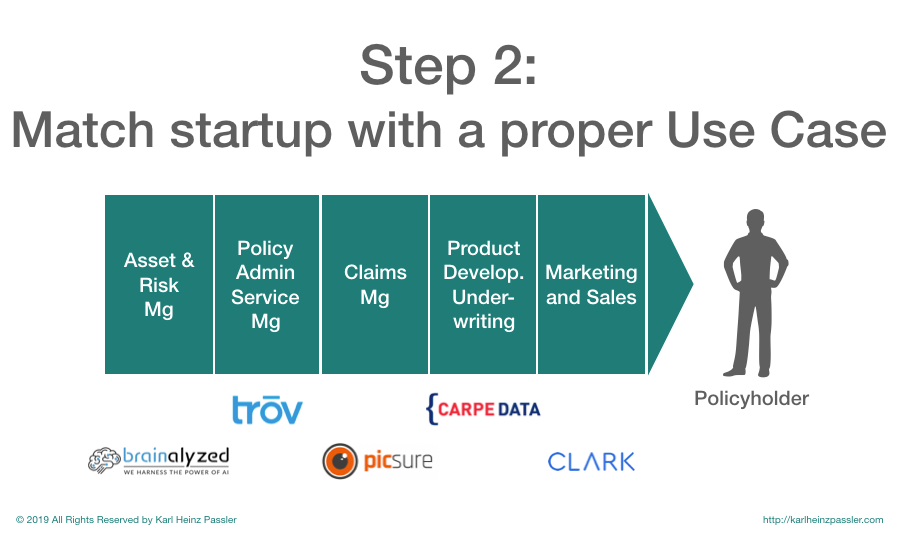 The skills startups offer can be typically applied to different activities inside the value chain. So take an InsurTech with its technical capabilities, match them to one of the listed activities, and create a proper Use Case that will prove that value.
>> Your job: is to match InsurTech startups and their unique skills with the most promising activities by developing a Use Case that will move the carriers KPIs in the right direction.
Step 3: Prove the business value to your organization before you start
Prove the value of the Use Case before you begin to invest and scale-up. Use the five key figures business decisions are typically based on and deliver facts, not opinion to make the right choices.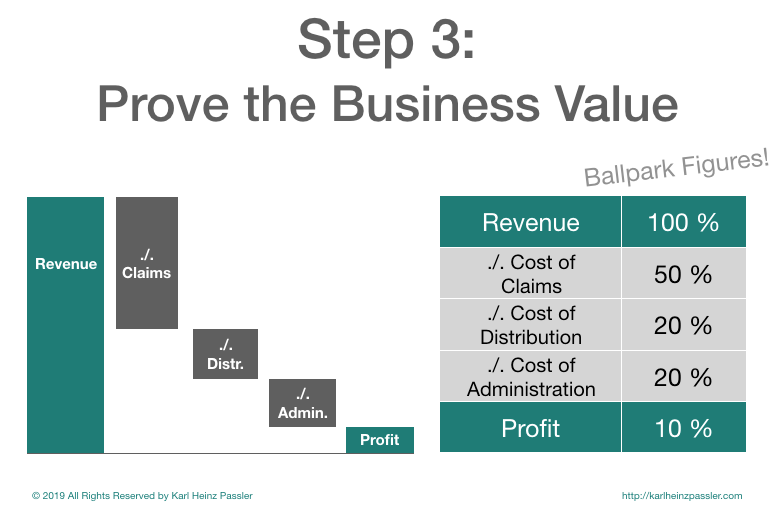 Example of a Business Case based on an InsurTech Use Case:
If you identify fraudsters and reduce your claims ratio by 1 percentage point, you equally increase your profit by 1 percentage point. At a premium of 1 Billion Euros, 1 percentage point corresponds to 10 Million Euros.
The five key figures are 1) Revenue 2) Cost of claims 3) Costs of Distribution 4) Costs of Administration and 5) Profit. Their calculation is as follows: Revenue minus Costs of Claims, minus Costs of Distribution, minus Costs of Administration equals Profit. Analyze, which of the five key figures will be influenced by the Use Case you developed. Enter your specific numbers and calculate different scenarios and their particular results.
>> Your job: is to prove the value of your particular Use Case by calculating a profitable Business Case. If the numbers make sense, go ahead invest, and scale-up.
Summary
1st: Focus your efforts and work with InsurTech startups that have the right fit to improve your organization and business key figures (KPIs).
2nd: Select InsurTechs that match a proper Use Case corresponding to a value-creating activity inside your insurance value chain.
3rd: Prove the added value of the Use Case to your organization, before scaling-up and investing more resources.
---